French Bulldog Pajamas
Bedtime cuteness! 🌙💙 These adorable pajamas ensure your Frenchie stays comfy and cozy on a colder night. As a bonus, you get to make beautiful, dreamy photos of your bulldog and collect thousands of likes.
They can wear it all day long too to prevent shedding or just being cute. On this page, you'll find a variety of pajamas in different fabrics, shapes, forms, and colors.
Your darling Frenchie is sure to have sweet dreams wearing these simple little jammies.The Frenchie World® "Come Together" frogdog pajamas sre made from ultra-soft thermal cotton spandex featuring a little frog. Sleepy time has never looked cuter! For extra warmth, try layering under a tank or jacket.Proudly made in the U.S.A.Size table:Size: S, Heath: 20CM, Chest: 29CM, length:23cm, Weight: 2KGSize: SM, head circumference: 23CM, chest circumference: 34CM, length:26cm, weight: 2-3kgSize: M, head circumference: 26CM, chest circumference: 39CM, length:30cm, weight: 3-5kgSize: L, head circumference: 30CM, chest circumference: 44CM, length: 34CM, weight: 4.5-7kgSize: XL, Heel: 35CM, Chest: 51CM, length: 39CM, Weight: 6-9kgSize: XXL, Heath: 40CM, Chest: 59CM, length: 45CM, Weight: 8-13kgSize: FB, Heath: 40CM, Chest: 62CM, length: 39CM, Weight: 8-13kg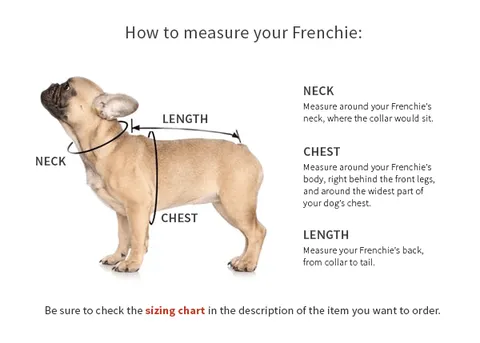 The benefits of wearing dog pajamas for your Frenchie
In case you think it silly to buy dog pajamas for a Frenchie, we want you to change your mind. Since French bulldogs are on a higher tendency to develop environmental allergies, wearing pajamas at home can help in preventing them to collect allergens on skin. Some of the most common environmental allergens are dust, dirt, mites, fleas, and pollen.
Another great fact is that your dog will shed less while wearing pajamas. It's definitely easier to wash your dog's clothes than to clean hair from a couch, right?
Check out our best-selling French bulldog pajamas
Who can resist these Strawberry Cotton Dog pajamas? We are sure that Your dog will look as sweet as pie in this adorable set!
For spending a lazy weekend on the couch we advise you to take a look at these Hey Yo Baby Pajamas. They are a great pick for cold snuggle nights.
In case you live in warm climate condition, this cotton summer pajamas are great for making your Frenchie both sweet and stylish.