Looking for a dog-friendly way to keep your pup's paws safe? Look no further than our French bulldog mesh shoes! They come in four vibrant colors and have an anti-slip sole to help prevent slips and falls. 
made of breathable mesh to support paw pad sweating
elastic band around the wrist to allow performing different activities
available in 4 vivid colors
anti-slip sole
hand washable
suitable for senior dogs to improve traction
perfect summer or cold protection for your pup
Why we love it?
These French bulldog shoes come in four fun colors and feature an anti-slip sole to keep your pup from slipping on slippery surfaces. Plus, the elastic band around the wrist ensures a comfortable, snug fit. Mesh allows the dog paw pads to sweat and release temperature normally, making these shoes perfect for hot days or sharp terrains. So grab a pair of our French bulldog mesh shoes today and let your pooch strut her stuff in style!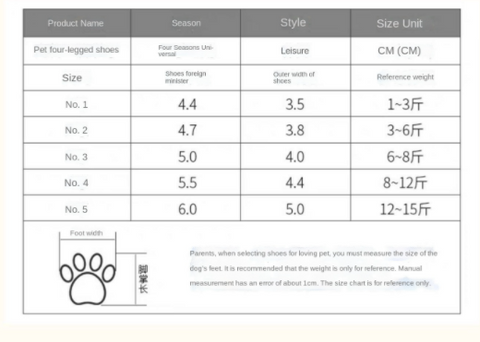 Make your Frenchie enjoy the winter games by keeping his/her paws safe from road salt and icy terrains.
made of waterproof fabric
padded with a warm filling
anti-slip sole that prevents slipping
available in many colors and 5 sizes
Size Shoes Width Shoes Length 1 3.5cm/1.37" 4.4cm/1.73" 2 3.8cm/1.49" 4.7cm/1.85" 3 4.0cm/1.57" 5.0cm/1.96" 4 4.4cm/1.73" 5.5cm/2.16" 5 4.8cm/1.88" 6.0cm/2.36 "
keeps the dog's paws dry and safe from icy and sharp terrains
improve traction
protect the dog's paw pads from a burning effect when exposed to a toxic street salt
Why we love it?
Keep your pooch's paws safely dry and warm all year round with dog boots made of waterproof fabric. Our dog boots are perfect for when the ground is wet, muddy, or snowy! It's the only way to keep your dog dry in inclement weather. Take a look at these dog boots from Frenchie World! With a waterproof design and non-slip soles, your pup will be safe from harmful elements. What's more, these boots are made with elastic for a comfortable, snug fit. So order now and keep your dog healthy and happy!