Turn your little gremlin into a scary Incy Wincy spider on a Halloween night and enjoy watching how the hairy legs are jiggling up and down.
perfect dog costume for celebrating a Halloween
easy to dress on and take off
the spider's legs are covered by fake hair
high cut that prevents potty messes
wet cloth cleaning
adjustable velcro collar that keeps a dog comfortable
available in two sizes
Why we love it?
This attractive, comfy costume is specially designed to fit your Frenchie's body. The furry spider legs are firmly attached to the spider's back with an adjustable velcro collar, and the costume is available in two sizes. Your dog will look like a spooky Tarantula while walking down the street. Let your neighbors feel the real fear when they see a giant spider is approaching them. The hairy legs will jiggle up and down as your furry friend walks and will surely make you laugh out loud.
Size chart: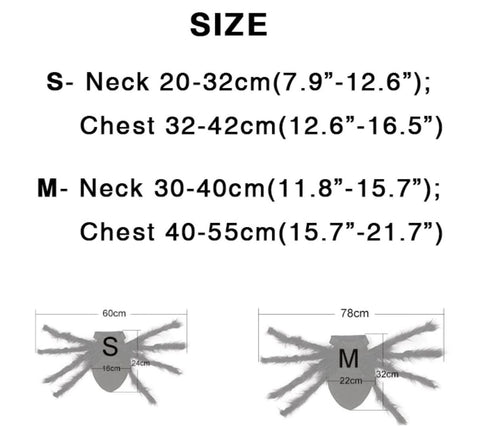 Make your furry friend ready for 'that time of the year' when we all need an extra layer to stay warm, cozy, and snug.
available in different designs
made of thick and soft fleece fabric
a perfect pick for the holiday season or Halloween party
 it provides a blanket feel to a dog
easy to dress design
emblazoned with eye-catching details
Why we love it?
It is the best time of year for all dog owners and their furry friends. Here at Frenchie World, we have a wide selection of costumes that will surely bring joy to your pooch's face. The latest addition this season is the French bulldog jumpsuit! Your pup can wear it on Halloween, Christmas, or other holiday parties -Be a glamorous reindeer, a nifty Santa Claus, Easter Bunny, and even Cow, Shark, or Dinosaur. So what are you waiting for? Shop now and help your Frenchie stay warm and snug while looking gorgeous too!Size chart: