French Bulldog Big Pig Plush Toy We bet that your Frenchie would love to have a 'friend' to spend time
French Bulldog Plush Pig HoodieWiggle your little one with the French Bulldog Plush Pig Hoodie!
Plush hoodie
Suitable for Fall/Winter seasons
Pink ears, eyes and snout on hood
Why we love it?
A fashionable hoodie is just what your dog needs! If your Frenchie likes dressing up they will love this piggy hoodie! Plush material makes it comfortable to wear. It is a great addition to fall and winter dog clothes. It will keep your Frenchie warm and stylish at the same time! If you are considering a gift for French Bulldog, this hoodie will be appreciated by both Frenchies and their owners. So what are you waiting for?
Size chart: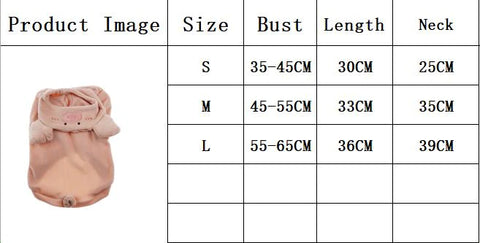 Your Frenchie will look like a cute little piglet by wearing this warm and soft Piggy French bulldog hoodie.
Cute design with printed piggies
Ideal for spring and autumn
Two colors available
Composition: 100 % fleece
Machine washable
High cut
Why do we love it?
Your little pooch will have the softest and coziest hoodie you'll ever find. It is available in 2 colors and it's ideal to wear on breezy days and evenings. It is a good fit for the spring season and fall seasons because it will keep your pet's coat free of allergens. Your Frenchie will have a soft and comfy layer to stay protected when going to strolls.
Size chart: