Frenchie World® Reflective protective harness –3M Reflective Line, ensure dog's safety during the night on the road. Durable, scratch-resistant soft
Iphone Case with Expanding Stand holder
The iPhone Snap Case is only 1.5mm slim and designed for a minimalist look and feel, while the extra lip protects your screen. The smooth, hard exterior shields your device from light scratches, drops and dust.
One-piece, clip-on protective case that's slim and lightweight
Expanding Stand Holder included
Impact resistant polycarbonate shell allows full access to device ports
Super-bright colors embedded directly into the case
Minimal impact on overall device size
Compatible with Qi-standard wireless charging
Compatible iPhone Model:
iPhone 6s,iPhone 6 Plus,iPhone 7,iPhone 6s plus,iPhone 8,iPhone 6,iPhone X,iPhone 8 Plus,iPhone 7 Plus
How many times did you want to protect your dog from the UV rays when walking on a sunny day? That's why we made this Transparent French Bulldog Summer Vest that will make your pet safe and stylish.
Ideal to use as protection against UV rays or warm summer breeze
Attractive pattern
Breathable polyester
Easy-closure buttons
Hand washable
¾ sleeves with doubled-cuffs
Pre-shrunk and lightweight
Adorable outfit for any occasion
Why Do We Love It?
You'll adore this Transparent French Bulldog Summer Vest because it's made of breathable, transparent, and quality fabric. It has been emblazoned with cute Dinos, Teddy Bears, and Watermelons to bring a dose of cuteness. On the other hand, your little gremlin can also wear it in the evening to stay protected from the breeze.
Size chart: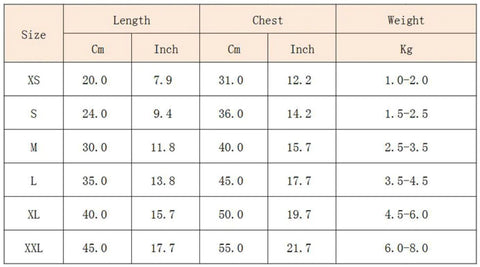 For all those Frenchies who deal with eye allergies or had eye surgery, we've prepared these special UV Dog Sunglasses to keep them protected from harmful effects.
Shatterproof, Windproof, Anti-fog and anti-UV
Material: PC lens, PVC frame, nylon band
Total Width: 21.5cm
Lens Width: 7.5cm
Lens Height: 6cm
Head Girth: 28cm-48cm (Not stretched)
Lower Jaw: 17cm-25cm (Not stretched)
Why Do We Love It?
Besides these UV Dog Sunglasses will keep your Frenchie safe from harmful UV rays, they are also suitable for those pooches who had surgery or eye infection. By putting these dog sunglasses on your Frenchie's head, you'll save him from water entering his eyes while swimming as well. Note that your dog doesn't have hands to wipe the eyes when something irritates him. The sunglasses are made of a PC lens, PVC frame and nylon band. They may also serve as a fancy detail when you want to make your pooch spotted. Must have French Bulldog accessory!