Color Block French Bulldog Vest
$41.56 – $51.96
 Treat your fur baby to the most stylish of winter gear! A dog vest is a perfect way to keep your French Bulldog cozy and safe during cold weather.
filled with pp cotton
lightweight and warm pick for the winter season
button closure for easy dressing
comes with a hood with adjustable drawstrings
color block combination of three colors
machine washable
takes up little space/ can fit into your pocket
Why we love it?
Dogs in colder climates need protection from the cold, and our French bulldog vest has serious heat! It's made with a lightweight material that packs away easily. It can be worn alone or over a hoodie or sweater. The three-block color combination of blue, red, and white will add an adorable pop of color to any outfit. The vest is lightweight, filled with pp cotton, and can be packed into your pocket. It's specially created for Frenchies and their large chests and has a hood with adjustable drawstrings and button closure.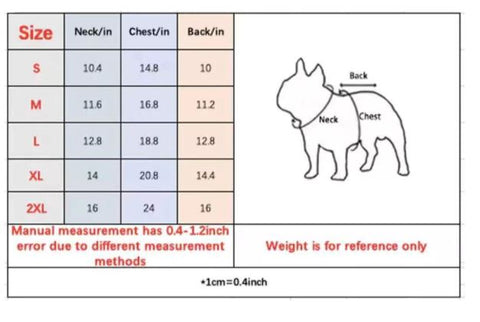 SKU:
N/A
Categories:
Dogwear
,
French Bulldog Jackets & Coats
,
Home page
Tags:
dog jacket
,
dog vest
,
down jacket
,
french bulldog
,
french bulldog jacket
,
french bulldog vest
,
frenchie
,
frenchie dog jacket
,
frenchie jacket
,
frenchie jackets
,
frenchie vest