Exotic Vibes Summer French Bulldog Harness
$19.90 – $39.90
Exotic Vibes Summer French Bulldog Harness
Make your Frenchie confident and pleasant during summer strolls by choosing Exotic Vibes French Bulldog Harness. Available in many gorgeous patterns, your pet will get the essential protection against overheating as well.
Made of breathable mesh
Decorated with trendy tropical designs
Comes with a matching leash
Hand washable
Chest support for small and untrained puppies
Quick and easy release plastic buckles
Reflective strip for extra safety
Free neckline area for dogs with thicker necks
Why we love it?
Your pet will enjoy wearing the Exotic Vibes French Bulldog Harness because it's inspired by summer vibes. Besides, a breathable mesh is especially suitable to be worn in hot weather because it improves skin breathing. Your pet won't have a feeling of pressure or discomfort while wearing it. Since we all know that Frenchies have thick necks and flat skulls, the neckline is put low to prevent choking. It's one of the most important features to consider when buying a French bulldog harness.
Exotic Vibes French Bulldog Harness comes with a matching leash, so it's a money-saving option. Besides you won't need to buy a leash separately, your dog will look stylish and trendy on every pawdventure.
Size chart: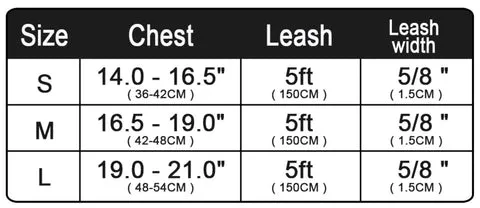 SKU:
N/A
Categories:
Dogwear
,
French Bulldog Harness
,
Harness & Collars
,
Home page
Tags:
best dog harness
,
best harness for small dogs
,
colorful harness
,
denim harness
,
dog harness
,
dog health harness
,
french bulldog
,
French Bulldog harness
,
french bulldog harnesses
,
frenchie
,
FRENCHIE DOG HARNESS
,
frenchie harness
,
Frenchiestore harness
,
funny harness
,
harnesses
,
HEALTH HARNESS
,
Maltipoo dog harness