French Bulldog Halloween Costumes
A spooky, scary skeleton is walking down the street and it could be your Frenchie! From costumes and accessories to crazy-looking sweaters and pajamas that will make your dog look so festive and hair-raising at the same time, we, at the Frenchie World, have them all!
Dinosaur French Bulldog JumpsuitMake your pup both warm, funny and spotted next time you go for a walk with this Dinosaur French Bulldog Jumpsuit!
The adorable Dinosaur French Bulldog Jumpsuit is great to wear both on special occasions or when having a walk in cold weather. We are sure that there won't be any cuter fellow in your neighborhood. The costume jumpsuit is suitable both for Halloween party and taking family photos on special occasions.
Size chart:

Show the gourmet side of your French bulldog by dressing them into our Hotdog Halloween Costume! It's always time to show everyone who's the greediest eater in the house!
velcro closure for easy dressing
hilarious dog wear for special occasions, parties, and Halloween
hand wash in cold water
filled with soft pp cotton
makes a dog comfortable while walks
made from micro plush
Why we ♥ it?
Show your dog's tastiest side of personality by dressing them in our hotdog costume. It represents an ideal pick for Halloween, birthday parties, and other occasions when you can take funny photos. The costume is covered with a soft micro plush and filled with pp cotton. The velcro closure eases the dressing and allows you to set the size according to your dog's body.
Size      Back  Chest(cm)
   S          20         39-41
   M         25         42-45
   L          30         47-59
Cure your fear of spiders by dressing your four-legged friend in a hairy Incy Wincy Spider French bulldog costume! We bet your cute batpig will help you overcome it forever!
Velcro closure eases the dressing
made from skin-friendly fabrics
spooky pick for a Halloween night
hand wash in cold water
easy to adjust and wear
Why we ♥ it?
Nothing can beat a dog spider costume on Halloween night! Your pooch will feel comfortable, and you're sure to have a hair-raising good time. Take hilarious photos and enjoy the trick-or-treat season! We bet this is a French bulldog costume that no one will forget. The hairy legs are just too scary and spooky not to get noticed. This dog costume is easy to dress on because of the velcro that goes around the dog's belly. So, unlike most other Frenchie costumes you can find on the internet, this one doesn't restrict your dog's breathing and make a dog uncomfortable.

With so many legs swaying around your Frenchie's body, we're sure they gonna scare you to death if you see them in the dark!
made of stretchy fabric that doesn't restrict the dog's moves
hand wash in cold water
easy to dress on and take off
the costume goes only over your Frenchie's front legs
velcro closure to adjust the size easily
Why we ♥ it?
Prepare your Frenchie for a Halloween night with one of the funniest costumes you'll ever find. This French bulldog Halloween costume is perfect for taking photos and scaring neighbors in the dark. Let the trick-or-treat season begin! Since the costume is made of a stretchy fabric with a glossy finish, your little pet won't feel uncomfortable wearing it. The crab legs are lightweight and filled with soft pp cotton, while the velcro closure will help you easily adjust the size.Size:S/M/L/XL Size---Back------------Chest-----------Neck S----28cm/11.02"----28cm/11.02"-----26cm/10.24" M----30cm/11.81"----32cm/12.60"-----28cm/11.02" L----35cm/13.78"----38cm/14.96"-----30cm/11.81" XL----35cm/13.78"----40cm/15.75"-----32cm12.60/"
It's time to trick-or-treat season, and your Frenchie deserves to wear one of the funniest costumes in town! 
perfect for taking a Halloween photoshoot
adorable cap that doesn't make a dog uncomfy
made of soft plush and filled with lightweight pp cotton
hand wash in cold water
funny accessory for your little pooch
the cap leaves enough space for a French bulldog's ears
Why we ♥ it?
What would you do if you saw a strange creature with dozens of legs approaching you at night? Well, your blood pressure would probably shoot up, and you'd start sweating so heavily! However, this little Octopus can't hurt you at all! This adorable Octopus French bulldog costume will thrill every human in the neighborhood on one of the most popular holidays in the year. The Frenchie costume is made from soft plush and the legs are filled with lightweight pp cotton. As your dog walks, the legs will jiggle, so we're quite sure it will be one of the most unique picks for Halloween night!Size:S/M/L Size--------Back------------------Neck----------------Weight S-----28cm/11.02"-----30-36cm/11.81-14.17"-----5kg M----31cm/12.20"-----36-44cm/14.17-17.32"-----7.5kg L-----35cm/13.78"------46-50cm/18.11-19.69"----11kg
Don't let any other dog beats your Frenchie's style! This Halloween season, it's time to jiggle and wiggle like never before!
made from a skin-friendly velvet and plush
made to suit the French bulldog's body
easy to dress; stretchy fabric that features button closure on the belly
free neck for better breathing

Four button closures, elastic, and easy to put on and take off.

designed with hat and eight legs; the costume makes your pet like a real spider.

hand wash in cold water
jiggling legs will make everyone thrilled on Halloween night
Why we ♥ it?
Imagine you see a giant spider approaching you at night! Well, it'll definitely be a scary scene, especially because this type of spider breathes like a pig and farts heavily. In case you're ready to terrify your neighbors with one of the spookiest hairy spiders out there, then this French bulldog costume will be the right pick! P.S. Please, do not scare people with Arachnophobia. It can turn out to be fatal!
S Size: 9.4" Neck Girth;13.0" Chest Girth;9.0" Back Length;Recommend Weight--3.0 to 5.5 lbs 

M Size: 11.0" Neck Girth;14.5" Chest Girth;10.6" Back Length; Recommend Weight--5.0 to 8.0 lbs

L Size: 12.6" Neck Girth;16.1" Chest Girth;12.2" Back Length;Recommend Weight--9.0 to 12.0 lbs

XL Size: 14.2" Neck Girth;18.1" Chest Girth;13.7" Back Length;Recommend Weight--12.0 to 18.0 lbs
Your dog is probably excited about this Halloween! But it makes sense: the spooky season is the time for tricks and treating. And Ghost Rider is one of our favorite costumes this Halloween season.
easily adjustable with velcros
the spooky skeleton will sway while your dog walks
perfect dog costume for a Halloween party
Why we ♥ it?
Your Frenchie deserves the coolest costume, and the Frenchie World has the best—just in time for trick-or-treating. The Ghost Rider French Bulldog Costume looks way cute, and it's adjustable and easy to take on. Just add a few pantries, and you and your pup will be ready to prowl the neighborhood. Think it's finally time to spook up your pup? Surprise everyone this Halloween with a howling good dog costume that is as comfy and cool as it is. Our Ghost Rider French bulldog costume will be the cherry on top of any fantastic dog party while keeping your pet in happy dance mode. You can't go wrong with this costume for your baby dog. Stay scaringly stylish while you're out trick or treating with our cute Ghost Rider pet costume!
Treat your pup to a spooky, crawly, and pretty darned cute costume with this awesome Halloween Bat Frenchie costume. Bat lovers won't have to wait for October—they can sport these playful styles all year round!
inspired by bats
made from a stretchable fabric that is soft and lightweight
jumpsuit cut costume that features bat wings
a perfect pick for a Halloween party
 handwash in cold water
Why we love it?
This Halloween, don't let your Frenchie feel bored. Turn them into a scary bat! Show your friends how their pets can look spooky with this Halloween Bat costume. It's perfect for hanging out with your friends on All Hallows' Eve, or just making the neighbors scream. The costume is made from a cotton blend, and it's super lightweight and stretchy. We're sure you're gonna love how the wings sway while your Frenchie walks!

Dogs know how to keep themselves scarce - but when it's Halloween, it's time to stand out! This is the perfect way for your pooch to do both with a Skeleton French Bulldog Hoodie.
Printed skeleton design on the back for a cool look.

Selected and picked for you to make your pup more charming as well!

Stretchable cotton blend will ensure no burden on the joints, and it never runs out of shape

High-quality fabric blended with cotton so that it's always soft and stretchy.
Why we ♥ it?
Why not scare people for the holidays? Trick people out of the neighborhood with our uniquely styled, glow-in-the-dark skeleton hoodie for dogs. Risky to be seen at night? A glowing skeleton dog hoodie is a perfect way to get noticed, get attention but maybe not make new friends. Dress up your furry friend in our ghost dog hoodie and make them feel spooky. With a printed skeleton pattern on the back that glows in the dark, their effectiveness of ruining trick-or-treaters' night is increased. Let the skeleton shine with a hoodie that they'll stand out and look adorable in! Get this pick now to avoid selling out later!
Chucky French Bulldog CostumeFeatures:
Suitable for Halloween parties and various occasions. Perfect gift for a cute pet.
Made of high quality polyester material, sturdy, durable and long service life.
Unique upright Yellow hair perple design, makes your pet fashionable and attractive.
Delicate overlock sewing and workmanship, fitting pet, not hurt pet skin.
Easy to put on and take off, make your pet have fun on Halloween.
Multiple sizes, so that your pet has a more appropriate choice.
Size info:Size------Chest-----------Neck-------------WeightS-----40cm/15.75---20-25cm/7.87-9.84---Within3.5kgM-----45cm/17.72---25-30cm/9.84-11.81--Within5kgL-----50cm/19.69---28-33cm/11.02-12.99---Within7.5kgXL----58cm/22.83---31-38cm/12.20-14.96--Within11kg
Cow French Bulldog Hoodie
Make some Moo-Moo moves and get your Frenchie ready for any kind of occasion in this Cow French Bulldog Hoodie.
Decorated with cow horns and udders on the dog's belly

Perfect for costume parties and Halloween

Made of soft and stretchable cotton blend

Neck friendly

It can be worn in the spring and fall seasons
Why we love it?
Is there anything cuter than seeing your Frenchie dressed in a cow's costume at the Halloween party? Well, from now on, your little pooch will stay both warm and attractive wherever you two appear. Made of stretchable cotton blend, and carefully tailored for a Frenchie's body proportions, this hoodie will become your favorite pick for different occasions. Besides, it is easy to dress and the hood is big enough to properly fit around the Frenchie's head. When the cold weather hits, your pooch will be grateful to wear a warm layer to stay comfortable in cold weather.
Size chart: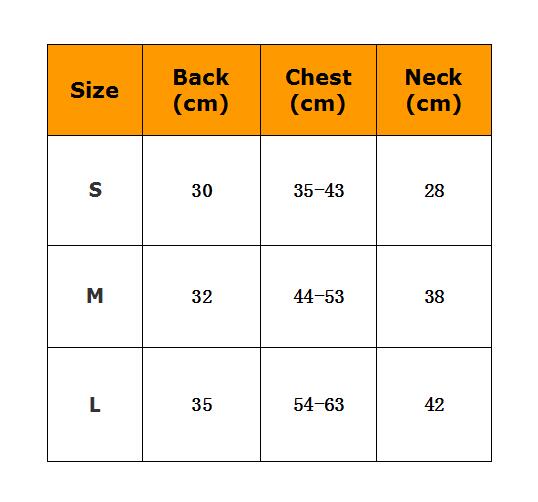 Apple Dog Hoodie CostumeNow your pup can be fruity and fabulous with this adorable Apple Dog Hoodie!Cotton material Touch fastener closure at chest High-cut tummyWhy We Love It:This Apple Dog Hoodie is fun, fruity and fabulous! Your dog will be sweet as can be while wearing this scrumptious confection!Your Apple puppy will be perfectly attired for any tropical occasion or for Halloween. Great for luaus and photo opportunities!Not all costumes will fit all breeds and breed suggestions are not costume specific. Consult Size Chart as a guide.
Your dog deserves the pumpkins, candy, and party for Halloween! It feels like an impostor when you dress up in costume, meanwhile your fur-baby is just watching from the window. Now you can make your furry friend be the star of the night with our fashionable costumes inspired by everything from spider dog to bunny cat entrees.
Discover the craziest-looking French Bulldog Halloween costumes!
Orange is the new black, and your Frenchie is the worst nightmare this Halloween! Spook up your neighbors by dressing your puppy into a nutty pumpkin outfit!
This Halloween, have your dog stand out as the cutest one at the party! Go all out with one of our dog costumes, hats, and other accessories for a costume that will be loved by both children and adults alike. Our costumes are perfect for dogs no matter their size — big or small! So try this season's scariest buy: a Halloween French Bulldog Costume!